Your Donations at Work
The Society has been the largest non-government funder of arthritis research in Canada, investing over $195 million in projects that have led to breakthroughs in the diagnosis, treatment and care of people with arthritis.
There is no cure for arthritis; we need to work together to create an arthritis free future.
Here are a few of our Walk ambassador stories:
---

Laurence gives her 110% for the cause
Laurence has always been passionate about sports and she knows how to rally people around her. She put on her first hockey skates when she was six years old and it was immediately apparent that she belonged in the net. Already, at that young age, Laurence knew what she wanted and she wasn't afraid to fight for it.
Read More »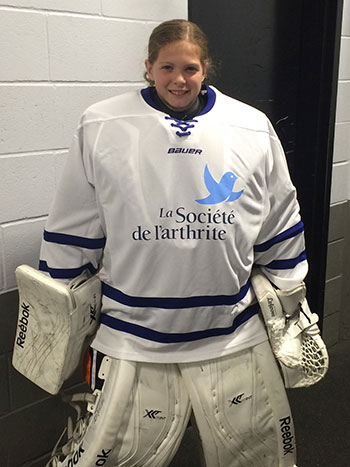 One morning in September 2015, Laurence woke up limping and we found a mass behind her left knee. An orthopedist at the Montreal Children's Hospital noticed inflammation in her knee and a 10 cm Baker's cyst, but that doctor felt the swelling was caused by something else, so he referred us to his colleagues in rheumatology.
On November 4, we met Dr. Campillo. That was when the verdict came in: juvenile idiopathic arthritis. What upset Laurence the most wasn't the diagnosis, it was finding out she couldn't play hockey until the drugs started working and the swelling subsided. After a long discussion and a lot of tears, Dr. Campillo prescribed cortisone injections, but Laurence was still very limited in terms of what she could do. Fortunately, her team mates took turns keeping her company and accompanying her to the public pool.
At our appointment the following month, Dr. Campillo and the physical therapist agreed that Laurence could gradually resume sports and that she could start playing hockey again at the beginning of January. They couldn't have given her a better Christmas gift. The very next day, she put on her equipment and started getting back into shape under her coach's watchful eye. Her team mates welcomed her back with open arms. Finally, the stars were back in our beautiful Lolo's eyes!
When we met with the entire health care team in February, the news wasn't good. The arthritis was back with a vengeance, now in both knees, a wrist and a hip. For Laurence, things couldn't get any worse. Dr. Campillo wanted her to rest, but there was a tournament the next day. In the end, we all decided she could continue playing until the end of the season.
After a number of difficult mornings where we had to get up early to apply heat to each of the affected joints, Dr. Campillo once again prescribed cortisone, this time in both knees. Laurence would also have to be put on methotrexate because her immune system was not being cooperative. Meanwhile, her coaches decided it was time to explain the impact of her disease to the entire team, and in March, all the players wore blue (the colour of childhood arthritis) on their helmet in support of their goaltender.
On March 8, Laurence got her first injection of methotrexate. Two weeks later, there was already a huge improvement. Our fighter's smile was back. In April, there were no traces of inflammation in her knees and hip, and her wrist was also doing a lot better. Dr. Campillo lifted all restrictions and gave Laurence carte blanche, telling her to enjoy the spring, but keep listening to her body. Laurence was totally pumped, especially since the first hockey tournament of the spring was approaching. After a long weekend of game after game, she came back with the trophy! For Laurence, it was a huge accomplishment. She had proven that she was stronger than the disease.
Today, Laurence is 11. She knows that the fight isn't over and that she'll have to live with this disease her entire life, but she is strong and has decided that arthritis isn't going to stop her from making her dreams happen. As parents, we have learned how brave and determined our daughter can be, as well as just how much everyone appreciates her.
This year, Laurence accomplished a major feat: she was admitted to a sports-study program for hockey starting in September 2017. And in February 2017, she will compete in a prestigious international Pee-Wee tournament in Quebec City, THE dream of every young hockey player.
The year will be a busy one, as Laurence will be one of the ambassadors for the 2017 Walk to Fight Arthritis in addition to starting a Walk team of sports enthusiasts who will walk with her and help her raise funds for research. Until then, she will proudly wear her new "arthritis" shirt to teach other kids about HER disease.
Marlene Collin
Laurence's mother
---

Nancy's Story
It's 14 years since I got arthritis, and I'm happy to say that things couldn't be better!
Read More »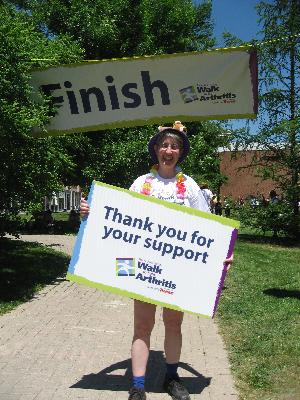 My disease hit like a rock on New Years Day 2003. I went from able-bodied to disabled within 3 days. We thought I was dying and started picking songs for my funeral. It took a long time to get a diagnosis due to some mis-steps and the SARs crisis: I had Rheumatoid Arthritis. The future looked very bleak since I had a grandparent on each side of the family who had been very severely disabled by this disease.
Fast forward 13 years and I'm almost thankful I became ill. The drugs are working beautifully so I'm almost 100% able-bodied again. Along the way, I've met all sorts of people who have become great friends. I also get to volunteer in "Patient Partners in Arthritis" where we help with the Rheumatology teaching at the University of Toronto medical school. Meanwhile, I was able to build a medical resume that let me jump to the career of my dreams working on the IBM Watson Computer helping to match patients to clinical trials. Watson is the computer that won Jeopardy in 2011.
This is my 8th year in the Arthritis Walk, and to date my friends and family have kindly contributed just shy of $19,000 to the cause, and our team has raised more than $40,000. The Arthritis Society makes great use of these donations for a combination of research and patient services that make a big difference to arthritis patients.
Thank you for any donation you can share to help them continue their good work. ..N
---

Avery's journey
A very sore ankle was the start of it, and it happened over a weekend.
Read More »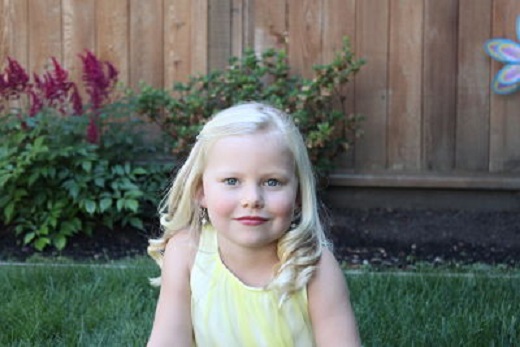 Avery was just 21 months old and a typical child in every way, until one weekend she started crawling again to avoid putting weight on her right ankle. Jennifer, her mom and an emergency room nurse, knew something was going on when Avery wouldn't walk anymore and constantly wanted to be carried. Avery had also recently been waking up in the mornings very stiff after sleeping.
Avery's parents brought her to the emergency room where Jennifer worked as a nurse, and x-rays were taken of Avery's ankle. Nothing unusual showed up, so blood tests were ordered. One of the tests came back within 45 minutes indicating that there was some sort of inflammation happening in Avery's body, so further bloodwork was requested. When Jennifer and Rob - Avery's dad - had to bring Avery back to the emergency room three days later because of her increasing discomfort, the other test results were in their little girl was diagnosed with juvenile idiopathic arthritis, or JIA.
Jennifer was shocked. Even though she worked in a medical capacity, she didn't know that kids can get arthritis too. The fact that her very young daughter had now been diagnosed with it was astonishing. Once the diagnosis came, treatment began right away. Avery was started on naproxyn, but the treatment didn't provide the relief it needed to. "Because it came on so aggressively, they needed to treat it aggressively," Jennifer shares. When Avery's symptoms were not improving, a new treatment was developed that added folic acid and methotrexate, a drug used for chemotherapy. While it helped significantly, Avery unfortunately experienced a flare about ten months later that started to affect her right knee. Prednisone was added to her treatment for six weeks, followed by cortisone injections into her right ankle. Together, this combination of medications induced remission.
Jennifer still needs to give her daughter a methotrexate injection every Sunday, and Avery calls these shots her "pokes". Something else Avery has had to get used to is getting her bloodwork done every three months, and now that she is old enough to recognize the clinic where her blood is taken, she tells her mom, "I don't want to go to the poke store!" each time they drive into the parking lot. This young girl also has to get her eyes checked every 3 4 months at Children's Hospital to ensure that her arthritis isn't affecting them. This is because the type of arthritis Avery has comes with a high possibility that she could develop uveitis, which is an inflammation inside the eye that can damage the iris without any pain or redness. In her short life, Avery has had to adjust to a lot.
But Avery just moves along and adapts to whatever comes, and that includes the positive things as well! Avery loves to be active, and swimming, soccer, gymnastics and jumping in her bouncy castle are some of her favourite things to do. She is now the doting big sister to baby sister, Brielle, too!
Early and ongoing treatment for Avery's arthritis means that the damage to her joints has been minimized, but her parents will continue to be vigilant. Jennifer says that they still encounter people who are too ready to dismiss the fact that Avery has arthritis, as if they don't quite believe it. "Kids get it too, yet people can't seem to wrap their heads around it and brush it off. People don't see the struggle that kids go through. We wanted to share Avery's story to help educate people and to get people thinking and talking," Jennifer says. "Kids don't understand the 'pokes' and why they are needed. We need to see things change for kids," she adds.
An Update from Jennifer, Avery's mother
Avery's arthritis in her right ankle has remained in remission since the last story was posted. We continue to get her assessed by the Rheumatologists at Children's Hospital every 3 months. As she begins to try new sports and activities we can tell that she has some limited range of motion to the affected ankle, but it's great to see her try. It almost seems as though she doesn't fully trust all her body weight on that foot. However, she isn't complaining of any pain. She has really taken to skating lessons this winter and her form definitely shows evidence of not wanting to put all her weight on that foot.
On another note, Avery's sub-group of arthritis made her at high risk for Uveitis. Unfortunately, she ended up developing this inflammatory auto-immune disease about a year ago. The treatment is the same as for the JIA. She has been on oral Methotrexate to treat the uveitis at a fairly high dose over the last 12 months. She has no symptoms or pain, but if untreated it can ultimately lead to cataracts and blindness. I'm unsure but I think the next step if her next eye appointment doesn't show improvement is for her to go back on the injected dose of methotrexate. We're crossing our fingers. I believe if that doesn't work we would be exploring biologics.
So it's really her eyes at this point that we are watching very carefully. Although we have never been able to know if her JIA is in remission without medication.
Avery's journey reminds us all that kids get arthritis too!
---

Oscar: A Superhero Fighting Arthritis
Lucas Arab doesn't hang a poster of his hero up on his bedroom wall. There are no action figures, colouring books or blockbuster movies.
Read More »
Instead, 13-year-old Lucas draws strength and inspiration from a little boy right under his own roof. Lucas' hero is his seven-year-old brother, Oscar a pint sized powerhouse fighting an epic battle against an unlikely foe in juvenile arthritis.
For a very young boy with a chronic illness, Oscar is full of life and energy. On this day, he's leaping through the air in full Batman costume, throwing fists and flying from the landing steps just like the real Caped Crusader. That larger-than-life attitude that resonates with Lucas it's an example of how to live in the face of adversity and how to confront life's challenges even at the earliest of ages.
"Oscar is exactly like a super hero," explains Lucas. "He's active, he's mobile and he's lots of fun. Most importantly, he's brave, just like a super hero. Oscar isn't afraid of anything and if I were sick, I know I could look at him and how he handles arthritis by being brave all the time. That's why he's my hero."
That heroic spirit is why Oscar was recently named the Walk Hero for the 2016 Walk to Fight Arthritis at the Emera Oval in Halifax on Sunday, June 5. The Arthritis Society is encouraging participants to dress like their favourite superhero to support the everyday heroes battling arthritis in plain sight every day.
Of course, life with arthritis isn't always easy for a young family. Mary and Phil, Oscar's parents, recall the uncertainty and fear that came with their son's diagnosis before the age of two. They discovered a large synovial cyst developing underneath his skin. They noticed he'd do an army crawl as a baby, avoiding pressure on his joints.
Oscar is an extraordinary boy who doesn't hold back much. Phil and Mary explain that he builds his own respite into each day when needed, dealing with the pain and fatigue of arthritis in his own way. And just as Superman hates Kryptonite, Oscar hates his weekly "pinch" his injection of medication to the point where it's a word best whispered around this superhero.
"As parents, we carry the emotional pain and our children carry the physical pain," Mary explains. "Having a child with arthritis is like a puzzle box filled with pieces. Except there's no picture on the box, you're blind to how they fit together or what it all looks like. Every doctor's appointment is like getting another piece."
Through it all, Lucas is the trusty and patient sidekick a hero like Oscar needs. To see the two brothers interact is something special. It would be easy for Lucas to perhaps feel frustrated with a little brother flying about, or one whose medical needs are a constant consideration when making family plans. Yet Lucas embraces the role like a Jedi beyond his years. It's a simple yet incredible gesture of support that is so essential for anyone living with a chronic illness.
"Lucas has patience beyond anyone he might even be more patient than we are. He's amazing. He feels Oscar's pain. Oscar has taught all of us a label like arthritis shouldn't mean you limit yourself. He learns to adapt, and we adapt with him."
For now, the Arab family continues its fight against arthritis. Days like the Walk are key landmarks in that struggle. They inspire hope in Mary that her little hero's future may not always be tied to the disease.
"I do believe there will be a cure in Oscar's lifetime. I have to believe."
To join Oscar's crusade, visit walktofightarthritis.ca.
---

Kendra Parsons Named Walk Ambassador For Paradise Walk To Fight Arthritis
Kim and Ryan Parsons woke one Sunday morning to hear their six-year-old daughter, Kendra, dragging herself through the hallway
Read More »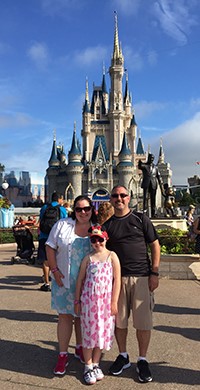 Kendra was on her way to watch cartoons, trying not to wake anyone as her arthritis pain forced her to crawl along the floor.
Three years later, memories like that one remind the Parsons family of the things that come with an arthritis diagnosis the need for strength, a revealing test of character and an outreach for support.
"We didn't associate arthritis with children, and none of it made sense to us," Kim says. "We just immediately focused on the next step from appointment to appointment, we made our way through. We can't say enough good things about the support we received from Kendra's doctors and The Arthritis Society."
Three years later, the family recalls their daughter's knee swollen the size of a cantaloupe, the arduous trip to the living room for cartoons and the need to find answers and belonging.
Arthritis affects about 3 in every 1,000 children in Canada, so there's a great chance many parents don't know children other than their own facing the same struggle. Through The Arthritis Society's youth and family events, the Parsons family quickly realized they weren't alone. Every conversation with fellow parents was an opportunity to discuss a shared experience.
"It didn't even have to be about getting answers from other parents," Kim says. "It was about feeling together. There was always someone to talk to our children had seen the same doctors, taken the same medications. Sometimes, it just helps to tell your story to someone who's been there, and hear theirs knowing you've been there, too."
Now nine years old, Kendra's arthritis is in remission. Her parents say living with a chronic illness at such an early age caused her maturity level to skyrocket. She never cried, instead learning to function within the limits of her condition.Now, she can enjoy ice skating, swimming, cross country running and Harry Potter like any other girl in school.
"Through all of this, we've seen that Kendra is so much stronger than we could've ever known," Kim says. "She's grown much older, much wiser. There's a lot of maturity that comes with being so strong, and we're proud of her."
The wonderful news of her remission isn't something the family takes for granted. Even on a recent trip to Disney World, preparations were made in case Kendra had a flare-up and required a wheelchair in the park, for example. Arthritis always remains present in the family's mind. It's why they are proud to remain involved with The Arthritis Society, and Kendra is the walk ambassador for the 2016 Walk to Fight Arthritis in Paradise, NL.
"We are so happy to be in remission, but we know there is a possibility it could return. We also know there are families out there who need our support, and we still need theirs, too. The diagnosis can leave you feeling lost. You can Google all the information you want, but what you really need is that perspective from other parents. You want to feel like you aren't alone in the world."
---

Jillian Starkey named Walk Hero for 2016
Jillian Starkey will always remember her 18th birthday. It was the day she was diagnosed with arthritis.
Read More »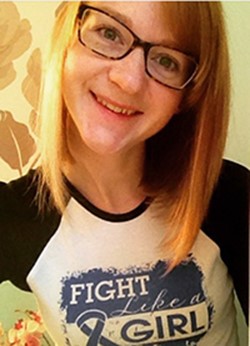 "Happy birthday to me," recalls Starkey, now 28 and from Clarendon, NB.
Starkey underwent both x-rays and blood work just weeks after her 18 birthday. Already dealing with a low blood count, her father wondered afterward if she had anything left to give inside. She pressed on, finding an answer that was worth the pain.
"I wasn't too nervous until they started counting out the vials, 19 in total," she says. "I shed a few tears that day."
Starkey was diagnosed with rheumatoid arthritis in her hands, feet, knees and most severely in her jaw. She was prescribed various medications and physical therapy to help her manage the disease, which resulted in a difficult trial and error in searching for effectiveness. Some of the drugs caused migraines, others nausea and weight gain.
"No one wants to hear you'll put on weight three months before prom."
Her dress did fit, but the experience signaled a hard road ahead for a young person dealing with a disease that is thought of by most as only affecting older people. The stigmas still exist, even now as a 28-year-old stepmother to a young child. Uncertainty has become the new normal.
"I live each day not knowing if I will be stiff, in a lot of pain, or just a little," says Starkey. "I used to wake up and barely be able to put my foot on the floor."
Jillian still goes for monthly blood work, and must also go for yearly vision checks because some of the medication she takes may cause eye issues. Constant maintenance is necessary to keep up a healthy life and remain in control of her disease.
"I've had arthritis for 10 years now, but it doesn't seem like it's been that long," she explains. "Each day bring its own set of challenges, and never knowing whether it will be a good day or a bad one. When I do have pain, I've learned to block it out."
Starkey's arthritis is currently in remission, but the disease is always on her mind. Having lived her entire adult life in its grip, she knows the importance of events such as the Walk to Fight Arthritis on Sunday, June 5th on the green at the pedway beginning at 10:30 a.m. The Walk helps The Arthritis Society fund research along with educational programming and services throughout New Brunswick. All funds raised at Walks in Fredericton, Moncton and Hartland stay in the province to help the 1 in 6 New Brunswickers living with arthritis.
"Those suffering from this disease really don't know how strong they are until being strong is their only choice," she says. "I walk for those like me who need that strength."
To join Jillian and register for the Walk, please visit www.walktofightarthritis.ca.
---
Medavie Blue Jewels: Community Spirit in Support of Arthritis
When it comes to the Medavie Blue Jewels, a little bit of soup goes a long way. The same goes for cookies, gift baskets and other fundraisers the group holds annually to help the more than 212,000 Nova Scotians living with arthritis.
Read More »
The Medavie Blue Jewels are stars on event day at the Halifax Walk to Fight Arthritis. Dressed in bedazzled blue shirts, feathered boas and flashy sunglasses, the fun-loving collection of a dozen Medavie Blue Cross employees brings life and energy to the party at the annual national fundraiser.
"We have fun as a team and that's part of our group's culture, but it's also part of the culture working here at Medavie," explains Pam White, team captain for the Blue Jewels. "They are very supportive of the community, and they make it a fun place where getting involved and doing good for others is encouraged."
Since joining the Walk a half-decade ago, the Medavie Blue Jewels have raised thousands of dollars for The Arthritis Society's Nova Scotia Division. They have fun with their charitable efforts an office soup sale recently brought in over $500. Other plans include raffling a basket of goodies to be used over the Victoria Day long weekend, a lotto tree, and of course, their famous bake sale. No store-bought treats are permitted for sale that day, only top quality homemade goodies.
The fun, the fundraising and the food all lead to a good cause. Pam says arthritis is a cause close to the team. Some members live with the disease. Others have watched family members lose mobility over the years.
"It's a team-building exercise, but it's also a cause that is really close to our department," she explains. "So many people get arthritis, but I don't think everyone understands how much arthritis can affect your life and especially how it can affect your work."
The accomplishments of the Blue Jewels are part of a strong overall commitment made by Medavie Blue Cross to The Arthritis Society and the Walk to Fight Arthritis. As regional sponsor, Medavie Blue Cross has helped thousands of Atlantic Canadians live better with arthritis through The Society's free programs, services and advocacy efforts in communities across the region.
Medavie Blue Cross cares about the health of Canadians. Our community investment program is focused on chronic disease management and health research initiatives that help people better manage their health. As a health care provider, we see the impact arthritis has on our members. We support the Walk to Fight Arthritis because we want to help make a difference for those living with this chronic illness.
It's a relationship that has helped The Arthritis Society grow the Walk in cities around Atlantic Canada, including Charlottetown, Fredericton, Moncton and St. John's.
"Medavie Blue Cross makes an annual commitment to helping The Arthritis Society better support Atlantic Canadians living with arthritis," says Susan Tilley-Russell, executive director for The Arthritis Society's Atlantic Region. "Their contributions go above and beyond partnership and reflect the true spirit of community involvement and personal commitment that allows us to help Atlantic Canadians living with this chronic illness through the programming we offer. We are both proud and grateful to have their support."
To learn more, visit www.walktofightarthritis.ca.
---
Who could say no to this face?!
Maddie Umbach is not your average 7-year-old. She may only be about 34 pounds, and 43 inches tall, but it's not size that matters it's heart.
Read More »
When Maddie was diagnosed with juvenile idiopathic arthritis (JIA), life changed for the Umbach family. It's been a long journey riddled with long commutes to doctor's appointments and many conversations to educate the people around them about arthritis, but the Umbach's are on a mission to raise money to help find a cure. This year, Maddie and her family will be walking in the Walk to Fight Arthritis on June 5, 2016 in support of urgently needed research and support programs for other people like Maddie who are living with the pain of arthritis.
Maddie's family and friends have banded together to form Maddie's Marchers (wearing her favourite colour neon green!). So far, Maddie's Marchers has raised over $3,500 and counting. Last year's team had 20 people on it including classmates, family, and friends; this year, the team is going to be even bigger.
Like any determined 7-year-old, Maddie has a strategy. She is hoping that she can get 1000 people to donate two dollars each in support of her team. She says, "It only takes two minutes to donate two dollars." However, most people are donating more than that. After all, who could say no to this face?
"Thank you to everyone who donates," says Maddie. "It means a lot to me."
Maddie's family agrees. "You have reached out and touched our lives through The Arthritis Society. You've had a huge impact on Maddie and us. It means the world to us. Thank you!"